25 Aug 2023
Session announcement: Take the wait off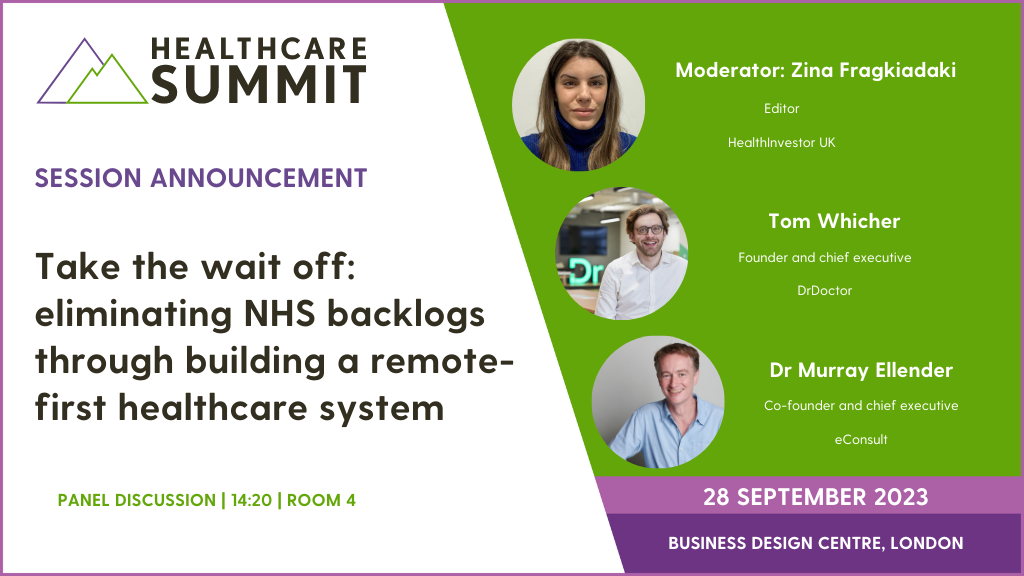 In this panel session chaired by Zina Fragkiadaki, Editor of HealthInvestor UK, panellists will discuss the benefits of moving towards a remote-first healthcare system and explore how digital platforms are helping to achieve this.
Talking points will include the use of technology to:
understand patient needs and triage to the right clinician
better connect primary, urgent and specialist care
support practices in coping with workforce shortages
help with clinician decision making
address the supply and demand issue facing UK healthcare
improve waiting list times
reduce the number of DNAs
implement PIFU to reduce follow-up appointments
Who are the panellists?
Dr Murray Ellender is Co-Founder and Chief Executive of eConsult, creators of digital triage and remote consultation solutions. The company's eConsult remote consultation platform for primary care is currently used by over 2,800 GP practices.
Their eTriage platform registers and automatically prioritises patients upon arrival at NHS Emergency Departments and Urgent Treatment Centres. Their outpatient care application, eSpecialist, ensures that clinicians have the right information to diagnose, manage and treat patients at the earliest point.
Tom Whicher is Founder and Chief Executive of DrDoctor, creators of a patient engagement platform designed to improve DNA (Did Not Attend) rates. The company's platform is used by clinicians to send out appointment reminders, allows patients to rebook/move appointments, and supports in digitising the infrastructure of the NHS appointment system.
DrDoctor deploys AI to obtain the greatest use from every scheduled appointment within a hospital – ensuring high attendance by using past attendance and demographic data to predict those less likely to attend in the future.
Don't miss out…
To get informed about the future of healthcare, book your ticket for Healthcare Summit 2023 and we'll see you at London's Business Design Centre on 28th September!
Tickets are FREE for UK care and healthcare professionals working within the NHS, CCG, local authority, primary care, secondary care, private hospital, private care and social care.