14 Sep 2023
Session announcement: Specialist care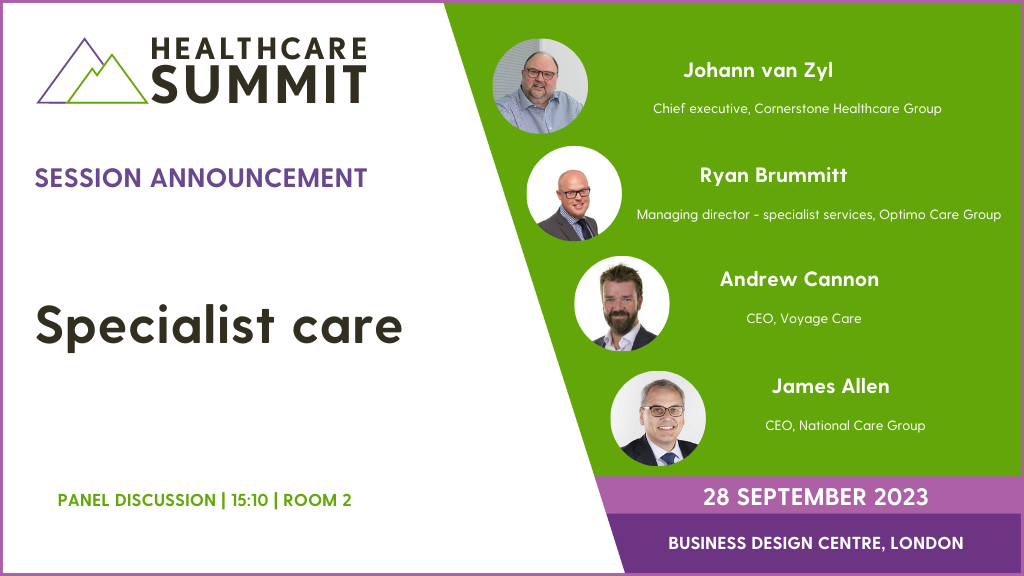 Join Specialist care at Healthcare Summit 2023 to hear from leading voices in the world of specialist care and get valuable insights into the future of the sector.
In this panel session chaired by Lee Peart, Editor of Caring Times, panellists will discuss the current state of the specialist care sector, including challenges and opportunities for the future.
Talking points will include:
Agility of the specialist care sector and its attractiveness to investors
Funding and commissioning trends – particularly since the creation of ICSs
Staffing in post-Covid times and the cost-of-living crisis
The changing regulatory landscape
Challenges and opportunities for the sector
Who are the panellists?
Johann van Zyl has been Chief Executive of complex care provider Cornerstone Healthcare since 2018. He initiated the buy-in of two Hampshire-based nursing homes to form the 154-bed Cornerstone Healthcare. Since then, Cornerstone has acquired another home in Surrey, increasing bed numbers to 204, and they are developing two more care homes which will provide 354 beds.
Ryan Brummitt is Managing Director for Specialist Services at Optimo Care Group. He has worked within the health & social care arena for around 20 years, largely delivering specialist care and support services across England. In recent years, Ryan has held positions supporting individuals with autism, learning disabilities, mental health needs and acquired brain injury to live more independent lives.
Andrew Cannon has been CEO of Voyage Care since 2015. Prior to this, he was Managing Director of Bupa Care Services, leading a team of 27,000 across 300 residential homes and five care villages, and caring for 40,000 people.
James Allen is CEO of National Care Group (NCG). James started his career in local government and NHS roles, where he spearheaded social care transformation initiatives. He joined NCG in 2029, leading a team of 2,400 colleagues and ensuring that NCG delivers carefully planned care and support to adults with complex needs.
Don't miss out…
To hear from these leading figures in the specialist care sector, book your ticket for Healthcare Summit 2023 and we'll see you at London's Business Design Centre on 28th September!
Tickets are FREE for UK care and healthcare professionals working within the NHS, CCG, local authority, primary care, secondary care, private hospital, private care and social care.