08 Aug 2023
Session announcement: Shaping the care sector vision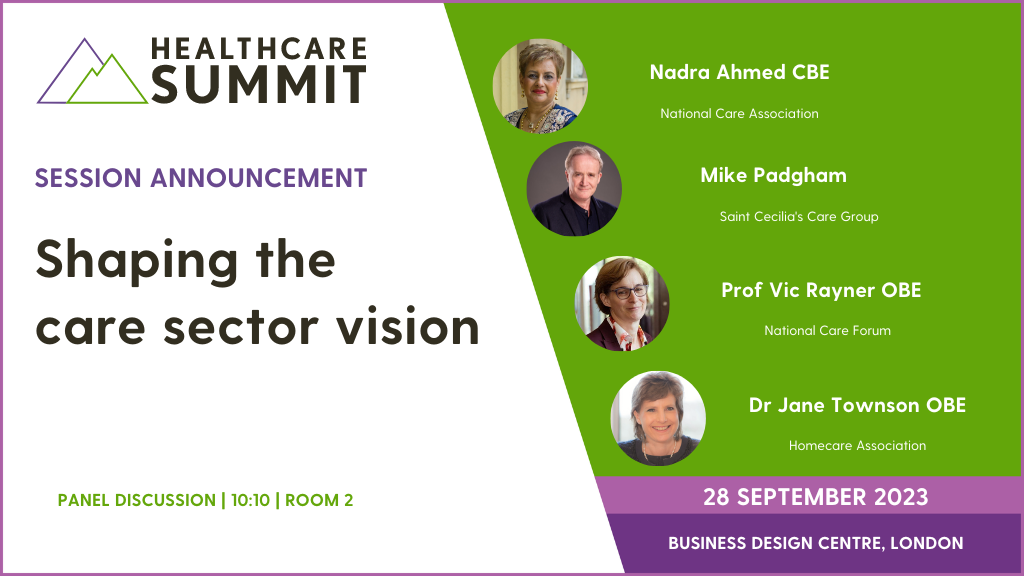 In this panel discussion chaired by Lee Peart, Caring Times Editor-in-Chief, social care leaders will discuss the current challenges facing social care – and the policy reforms that are needed to make social care fit for the 21st century.
Talking points will include:
the introduction of a national workforce strategy
fair pay and career pathways for care workers
funding reform
health and care integration
Who are the panellists?
Nadra Ahmed CBE has been involved in social care for over 40 years and is one of the sector's most respected figures. A leading lobbyist for social care, Nadra is co-chairman of the National Care Association and chair of the Care Provider Alliance (CPA). The CPA is the collective, national voice of adult social care providers in England, bringing together the ten national associations which represent private, voluntary and community sector providers.
Mike Padgham is Managing Director of Saint Cecilia's Care Group, owning five care homes in North Yorkshire, and is also chair of the Independent Care Group. Another notable campaigner and lobbyist for care home reform, Mike gained national attention when Ed Balls worked at a Saint Cecilia's care home during his Inside the Care Crisis documentary.
Professor Vic Rayner OBE is another leading voice of the social care sector, representing not-for-profit care providers as CEO of the National Care Forum. Vic has led calls for social care reform and the promotion of care innovation, and was previously CEO of Sitra, a national membership body championing excellence in housing, health, care and support.
Dr Jane Townson OBE is Chief Executive of the Homecare Association, the only national body representing home care providers. She was formerly CEO of care home and domestic care provider Somerset Care, and has extensive experience of the social care, health, housing and technology sectors.
Don't miss out…
To hear from these leading figures in the care sector, book your ticket for Healthcare Summit 2023 and we'll see you at London's Business Design Centre on 28th September!
Tickets are FREE for UK care and healthcare professionals working within the NHS, CCG, local authority, primary care, secondary care, private hospital, private care and social care.