01 Sep 2023
Session announcement: Founders view of investment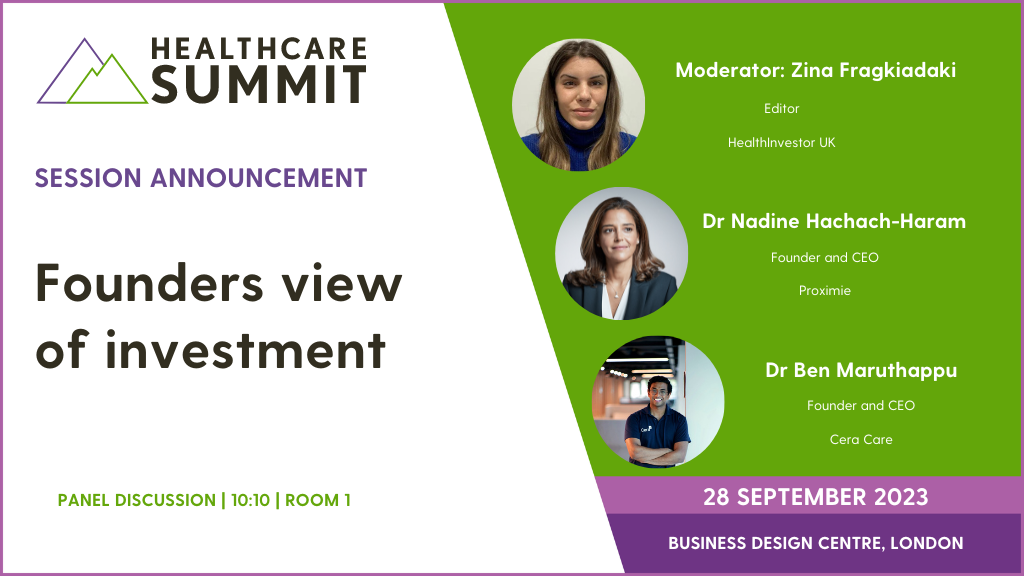 In this panel session chaired by Zina Fragkiadaki, Editor of HealthInvestor UK, founders of exciting health tech companies will discuss how successful investor partnerships have enabled them to grow.
Talking points will include:
how to choose the right investors and partners
how investors can support early-stage companies
how to align business strategy and mission in a comprehensive plan
how to drive impact and growth
Who are the panellists?
Dr Nadine Hachach-Haram is the Founder and CEO of Proximie. Created in 2016, Proximie is a software platform that enables physicians to virtually 'scrub in' to any operating room from anywhere in the world – before, during and after surgery.
Bringing together telepresence, content management and data insights, Proximie enables surgeons to share information and expertise, thereby improving patient safety. The company raised $80 million in Series C funding last year and has raised a total of $130 million since its inception.
Dr Ben Maruthappu is the Founder and CEO of Cera Care. Founded in 2016, Cera is a digital-first home healthcare provider, delivering care, nursing, telehealth and repeat prescriptions.
Cera's mission is to empower patients to live longer, better lives in the comfort of their own homes, saving the need to go to hospital. Last year, the company raised $320 million in funding to expand its operation from servicing 15,000 at-home patients each day to 100,000.
Don't miss out…
To get informed about the future of healthcare, book your ticket for Healthcare Summit 2023 and we'll see you at London's Business Design Centre on 28th September!
Tickets are FREE for UK care and healthcare professionals working within the NHS, CCG, local authority, primary care, secondary care, private hospital, private care and social care.